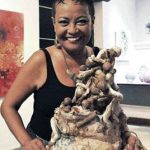 My name is Kim Sontosoemarto (1959). I am of Javanese descent and was born and raised in Suriname. I am an autodidact artist and nowadays I spend a large part of the year in my country of birth. Those who know this country are well aware of the fact that everyone growing up in 'Switi Sranan', does so amongst a great variety of cultures. It is therefore quite logical that my inspiration comes from the people and the environment of Suriname.
In the early 80's, I moved to the Netherlands and it is there, during a dark time in my life, that I sought refuge in paints and brushes. Even in the Netherlands my inspiration was still the cultural and natural environment of Suriname. I think that was largely due to the homesickness that I felt for my country. In 2000 I returned to Suriname. There, I initially started with ceramics under Soeki Irodikromo's tutelage. With the clay between my fingers, I was able to give my creativity free reign, and painting was therefore pushed into the background. At that time Raku was still relatively unknown in Suriname and I asked my sister in law Dorothé van den Berg (Italy), to teach me the basics of the raku firing technique. Making ceramics intrigued me so much that I sought out more workshops (France and the Netherlands). I specialized in the raku technique and decided to withdraw myself from the company that I had started with my husband when we returned to Suriname. By doing so I was able to focus completely on this overgrown hobby of mine. The first exhibition in which I showed my work was in the Congreshal in Paramaribo in 2005, at the commemoration of 115 years Javanese immigration in Suriname. Since then I have shown my ceramics regularly in group- as well as solo exhibitions, in Suriname and the Caribbean.
Due to my regular travels to the area further upstream of the Suriname River (Sipaliwini) my ceramics have been greatly influenced by the 'Saramaka' maroon women, the 'Samaaka muje'. The specific built and stance of their bodies, the strong back and neck muscles and loose hips, are features characteristic of these women who carry their loads effortlessly on their heads. She is the pillar of the family, one that in most cases does not include a father figure. It is her responsibility to take care of the children, often also the grandchildren, to work on the agricultural plots, and to put food on the table. Sometimes I use my work to raise awareness about social subjects such as domestic violence  (Behind the curtains 2007, keramiek-mixed media) and the 'crab mentality' (Abrasa 2016, keramiek).
I was still very much drawn to working with new materials and techniques and at a certain point I got to know a product that allowed me to quickly reproduce the sculptures that I had in my head, but also to work on a larger scale. With ceramics after all, there is a lot that can go wrong during the production process: It has to survive the firing process and the end result (especially with raku firing) can be very disappointing at times. My introduction to Paverpol, a molding polymer and textile hardener, opened up a whole new range of possibilities. As I became more familiar with the material I became enthusiastic. By adding materials such as cement or sand you can make strong constructions. I received the import and distribution rights for Paverpol in Suriname, which enabled me to introduce the product in Suriname as well. Various other artists in Suriname now use Paverpol too. For the Surinamese craft market I designed the 'Samaaka muje'. This is a sculpture made from Paverpol, inspired by the 'Saramaka' maroon woman from the area upstream of the Suriname River. The 'Samaaka Muje' is available at the crafts & souvenirs department of Readytex.
In 2013 I got the opportunity to learn more about batik techniques. Through the Indonesian Embassy in Suriname I was able to go to Yogyakarta, Indonesia for batik training. I currently use the batik technique to decorate typical wooden maroon benches (so-called 'man bangi') for example, or to create patterns on my ceramic works. I also produce handbags with batik details, usually with images of the 'Kotomisi', for Readytex.
Nowadays a lot of my work is commissioned. It can range from sculptures for the garden, to murals and 3-D objects. And when it comes to my creative interests, I am now, partly due to Instagram and Facebook, also fascinated by nature photography. The local media has been known to call me a versatile artist. I call myself "Someone who wants make things and is happy when that makes others happy too".