Kim Sontosoemarto with Ceramics and Batik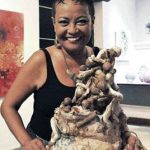 My name is Kim Sontosoemarto (1959). I am of Javanese descent and was born and raised in Suriname. I am an autodidact artist and nowadays I spend a large part of the year in my country of birth. Those who know this country are well aware of the fact that everyone growing up in 'Switi Sranan', does so amongst a great variety of cultures. It is therefore quite logical that my inspiration comes from the people and the environment of Suriname.
My ceramics have been clearly influenced by the Saramaca woman, the "Samaaka muje", because of my countless stays in the Upper Suriname (Sipaliwini) area.