Kim Sontosoemarto with Ceramics and Batik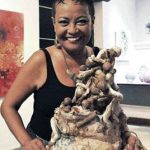 My name is Kim Sontosoemarto (1959). I have a Javanese origin and born and raised in Suriname (SA). I am an autodidact artist and nowadays I spend a great part of the year in my homeland. If you are known to this country knows that, as a Switi Sranan resident, one grows up with several cultures. So it is inevitable my inspiration is based on Surinamese people and their living environment.
My ceramics have been clearly influenced by the Saramaca woman, the "Samaaka muje", because of my countless stays in the Upper Suriname (Sipaliwini) area.